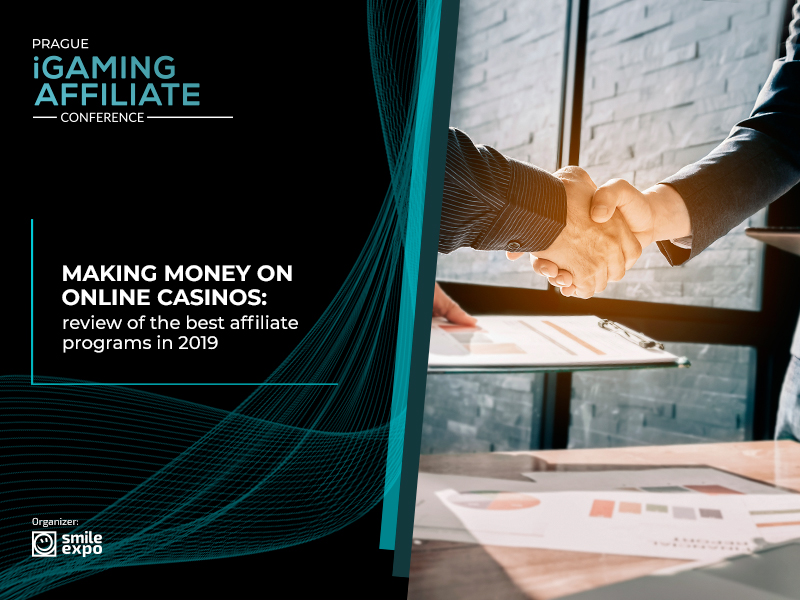 Making money on online casinos: review of the best affiliate programs in 2019
Affiliate programs bring benefits to all participants – advertisers attract new customers, and affiliates receive rewards for the assistance in business promotion.
Online casinos also use affiliate programs to grow the number of players. Here is the top list of affiliate programs for online casinos in 2019.
Affiliate programs for casinos
Lucky Partners
Lucky Partners is one of the most popular affiliate programs for online casinos today. It collaborates with 12 gambling platforms and offers several partnership options.
Lucky Partners offers to make a profit from the casino's revenue, for the player's deposit, or using a hybrid model. Specifically, the affiliate receives $50 for user registration and 25% of the casino's revenue brought by the player.
VLK Partners
VLK Partners – is an affiliate program of the popular Vulcan online casino that offers two products: Vulcan Platinum and Vulcan Russia.
The program has several options for casino promotion – affiliates can place ads in social networks, create banners, and send newsletters.
The revenue is paid out basing on one of two models. The affiliate can receive a reward for some user action on the gambling platform or choose the Revenue Share model – take a part of the casino's revenue from the new player.
RioBet Affiliates
RioBet Affiliates – is an affiliate program for online casinos that uses CPA and hybrid models.
It offers different marketing tools and advertising materials and provides collaborating resources with a possibility to arrange contests, events, and tournaments.
RioBet Affiliates guarantees a fixed 60% commission, transparent income reports and different withdrawal methods.
PoshFriends
This affiliate program works with different online casinos, for example, JoyCasino and CasinoX. It provides such marketing tools as GIF banners, demo games, and landing pages.
PoshFriends offers three types of collaboration. Affiliates can choose from up to 45% of casino revenue brought by a player, up to $500 for player registration according to the CPA model, or payouts based on a hybrid model.
Gambling Craft
Gambling Craft offers four partnership options. Participants can choose a CPA model that offers an income of up to $450 for each attracted player.
Revenue Share model is also available allowing to receive up to 50% of online casino revenue from each brought player.
Besides, participants can use a hybrid model or offer their own partnership type. To join Gambling Craft, it is not necessary to own a website – any source of traffic is enough.
Marketing tools of the program include landing pages, banners, and videos.
Partner Earning
Partner Earning provides several collaboration options, for example, payments for player registration. However, the most beneficial is the Revenue Share model that offers up to 50% of revenue brought by a player.
The program provides qualified customer support and offers different payment methods including WebMoney and Yandex.Money.
ProfitСo
ProfitСo has been functioning since 2011, and it offers modern marketing tools.
The most popular collaboration model is Revenue Share, where participants receive up to 50% from revenue brought by a player.
The program also offers a possibility to receive up to 30% from player's deposit or to use an individual CPA model.
The program guarantees regular updates of resources, 24/7 customer support and analytical system that allows tracking income.
---
Experts will discuss affiliate programs at Prague iGaming Affiliate Conference.