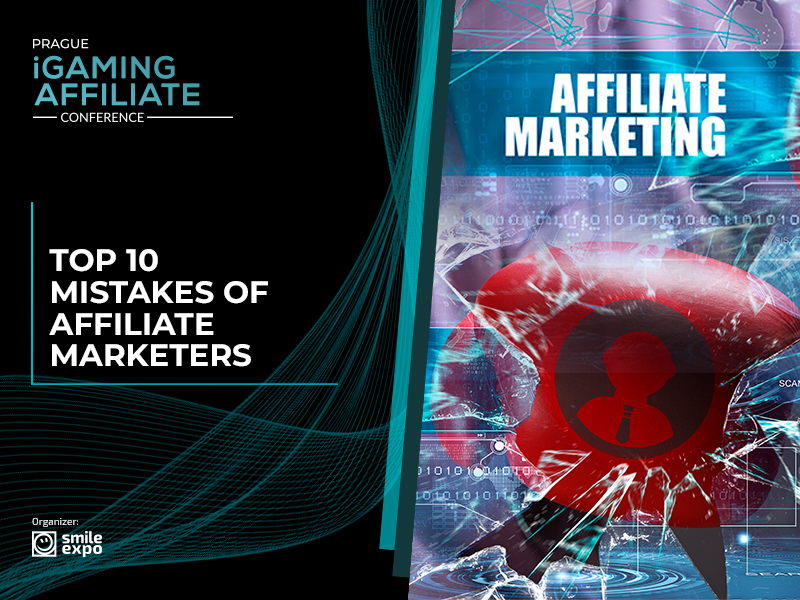 Telling lies and overloading with links: top 10 mistakes of affiliate marketers
If you are new to affiliate marketing, learn about a number of actions that will bring you harm rather than help. We listed 10 most common mistakes made by beginners that started to work with an affiliate program.
1. They do not make a list of email addresses
Search traffic is undoubtedly very important. However, large search engines (especially Google) often change the search algorithm. So even if you think that you have set everything up ideally, there is a chance to lose traffic in one night – just with another Google update.
This is why making a list of email addresses is important. Yes, losing search engine positions will be still unpleasant, but you will not take it too hard anymore.
2. They do not pay attention to keywords
Keywords and phrases are things that search engines primarily need to find your website. If you fill it with random texts without having a specific plan, you will soon notice that the number of visitors is decreasing.
Write down keywords that are important for you and integrate them in your website in a native manner. It will improve your site's ranking.
3. They sell rather than help
How often have you seen banners saying 'Buy right now!', 'This is the best product in the world!'? Which feeling do they provoke? Right, you want to close the page quicker not to get bothered.
Such ads are common for beginners in affiliate marketing. They do not understand that sometimes it would be better to be useful for the customer instead of writing calls to action. Write a review instead of a biased text with numerous calls to action.
4. They promote too many goods or services
Imagine that you are trying to sell 100 goods or services. You get distracted, forget advantages of one product and cannot recollect where you are promoting the other one. Monitoring such a big number of offers is difficult, so it would be better to focus on a smaller number.
In such a way, you will have a possibility to promote a product more often, see and correct mistakes that you make. You will be able to plunge into the process and offer customers what they need.
5. They buy cheap low-quality traffic
Beginners often purchase cheap low-quality traffic explaining it with the phrase 'the more, the better'. However, it does not always work. You will not achieve a good conversion rate without good traffic.
In the end, you will receive what you are paying for. And if you invest in qualitative traffic, returns will be higher.
6. They do not test
When you are choosing a new offer, look at it from the standpoint of your customer. It is quite simple to do: imagine that you receive your own advertising newsletter. Do you want to read it or will you move it to the spam folder fast?
By the way, a few things blow up customer loyalty more than frequent spam offers do.
7. They promote low-quality products
Do not forget that consumers are not fools. If you promote a low-quality good as if it was an extremely important invention, do not be surprised that users will not return to your website.
It would be a better idea to spend time to get to know a product or service and only then to decide whether you should promote it. If you take anything that turns up, the risk is high to work with a product that nobody needs.
8. They get involved in new affiliate programs
If you have been successfully working with one affiliate program, there is no point in shifting to a new program that offers more lucrative conditions. It would be better to wait for feedbacks, analyze it from all sides.
Sometimes affiliate networks turn out to be a scam. If you abandon your network where you have accumulated lots of experience in favor of a scam, you will regret it later. Nobody will bring you back the time you spent.
9. They tell lies
Do you know the phrase saying that the truth always reveals itself? It works in affiliate marketing as well. If you place a link with the text 'I made my first million thanks to this!' and in reality you hardly managed to earn for a pizza, be sure: people will understand everything very quickly. User trust will be shattered.
10. They overload the website with advertising and links
You must have been to websites that look like a circus and New York exchange at peak hours. Here you will see three pop-ups in a second, receive a special offer with a discount in exchange for your subscription, come along a psychedelic GIF image, and a pop-under. You will want to close this hell site as soon as possible.
Just do not do that. Moderation is a very important quality.