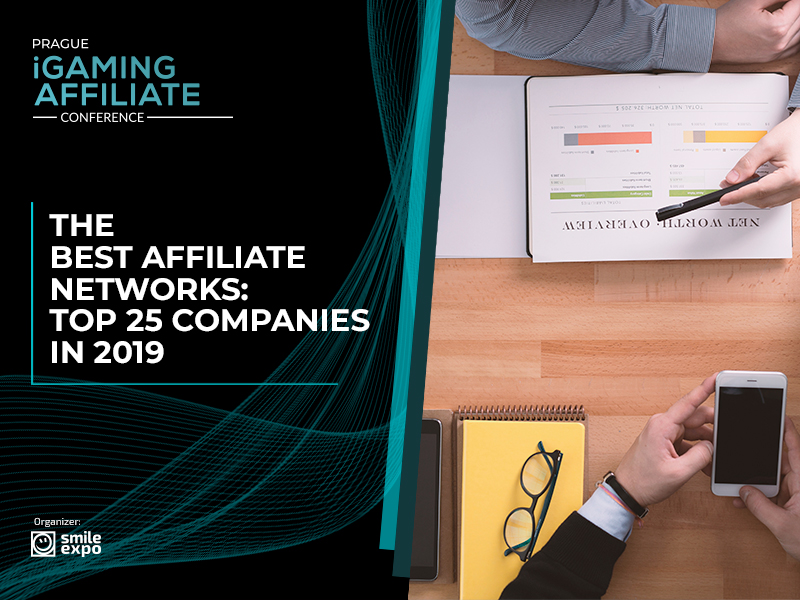 Rating of affiliate marketing companies in 2019
Affiliate marketing is an efficient way to promote goods and services used by online platforms. Business owners advertise products and affiliates earn remuneration for assistance. However, it is important to choose affiliate networks and offers carefully in order to achieve results.
Here is the list of top 25 affiliate networks that have the best offers in 2019.
eBay Partner Network
The eBay Partner Network offers 1.1 billion of goods and services for promotion including electronics, collectibles, and household items.
Affiliates earn from 50% to 70% from the sale of goods that takes place within 24 hours after hitting the affiliate link. The income depends on the chosen vertical and product category.
Jet
Jet is an affiliate program of the US e-commerce platform of the same name. The program has different offers from different categories. Advantages of Jet include rewards given for certain actions, frequent special offers for affiliates, and a wide assortment of banner ads.
Amazon Associates
Amazon Associates affiliate program offers over one million products for advertising. The income of affiliates ranges depending on the offer. For example, advertising of furniture and items for home allows making up to 8% from a sale, and clothes and cosmetics – 10%.
Gearbest
Gearbest affiliate network offers to advertise Chinese electronics. Arbitrage specialists can choose from around 10 thousand products. By participating in the program, one can earn up to 50% from the sale of advertised goods.
GoDaddy
GoDaddy is a web hosting service and domain provider, the affiliate program of which offers high commission rates. Affiliates can make up to 40% from the sale of a service in case their link has been used.
HostGator
HostGator is a platform that offers web hosting services and beneficial terms of the affiliate program. Advantages of the program include the possibility to earn $125 for registering.
ShareASale
ShareASale affiliate network has been operating for 19 years and has a variety of offers from different categories (fashion, health, home products, etc.).
The commission rate can reach up to 50%. However, the network offers rewards for not only sales but also uses CPL and PPC models.
ClickBank
By working with ClickBank program, affiliates promote goods from different areas: electronics, gambling industry, food, or sports products.
ClickBank is one of the highest paying programs as affiliates can earn up to 75% from the sale.
Rakuten
The company has been providing affiliate marketing services since 1996. It embraces many affiliate programs of large brands, for example, Walmart and HP. Affiliates make up to 20% from sales.
CJ Affiliate
CJ Affiliate (earlier Commission Junction) has proven itself as a reliable affiliate network. It includes various affiliate programs, for example, Adobe, Alibaba, Avast, Bata, Booking.com, Kaspersky, Levi's, Tripadvisor.
Affiliates can choose from different offers and payments depend on the advertiser's policy.
Wide Markets
Affiliate firm Wide Markets works with around 11 thousand advertisers in the field of e-commerce. Offers include innovations technologies: smart watches, virtual and augmented reality apps.
CPAmatica
CPAmatica is a Ukrainian affiliate network that has around 800 offers for promotion. The main verticals of CPAmatica are health and beauty.
The affiliate network offers different payment models: affiliates earn money for sales, hits, and actions on the advertiser's website.
Commission Factory
Commission Factory is an affiliate company working since 2011. The network collaborates with around 500 large brands and around 1 thousand new affiliates join the network every month. Some of the advantages are reliable customer support and simple tracking of payments.
Skimlinks
Skimlinks provides access to 50 affiliate networks allowing affiliates to promote offers from 48.5 thousand large brands throughout the world. Affiliates can earn up to 25% from the sales of advertised goods and services.
Avangate
Avangate network collaborates with 50 thousand affiliates and offers 22 thousand products for promotion focusing on software ads.
The company provides flexible payment models and makes payments in 100+ currencies all around the world.
FlexOffers
FlexOffers has over 12 thousand affiliate programs for collaboration. Fees paid to affiliates depend on the advertised brand.
The advantage of this network is the possibility to work with any of the popular business models.
MoreNiche
Affiliate company MoreNiche has been operating since 1999 and offers CPA and CPS models. Main verticals are beauty, health, and sport.
MunchEye
MunchEye offers a range of products that are new in the market or will be released soon. Commission rate depends on the advertised good or service: every release sets its own percentage paid to affiliates.
Tradedoubler
Tradedoubler has been present in the affiliate marketing niche for 20 years. Over this time, 180 thousand affiliates have joined the network. They advertise more than 2 thousand brands.
JVZoo
JVZoo marketing company has been functioning since 2011. It works with software and e-commerce offers as well as healthy life style goods.
The affiliate network has such a benefit as statistics of sales, clicks, and visitors. Besides, affiliates can earn up to 100% from sales of products for interfaces.
REI
REI offers affiliates to advertise products for outdoor activities. The company boasts a customer base of more than 5 million people, and the commission rate is 5% from sales.
BodyBuilding.com
.com offers products in the fields of health and fitness. The reward is 5% from purchases made by loyal customers, and 15% in case of new customers.
iAffiliates
iAffiliates is an affiliate program for online casinos that uses CPA model. In the first month of collaboration, affiliates earn 70%, in the second month – 60%, and starting from the third month the commission rate is 50%.
VetShop
VetShop offers products and medicine for pets. Affiliates earn 10% with a possibility to increase the income with the growth of sales volume.
CornerStorkBabyGifts
CornerStorkBabyGifts advertises presents for children. The affiliate program uses the CPS model: affiliates receive 12% of sale revenue. Moreover, they earn 12% once again if the customer makes a purchase within the next 120 days.
Leading marketers will discuss affiliate programs at Prague iGaming Affiliate Conference.