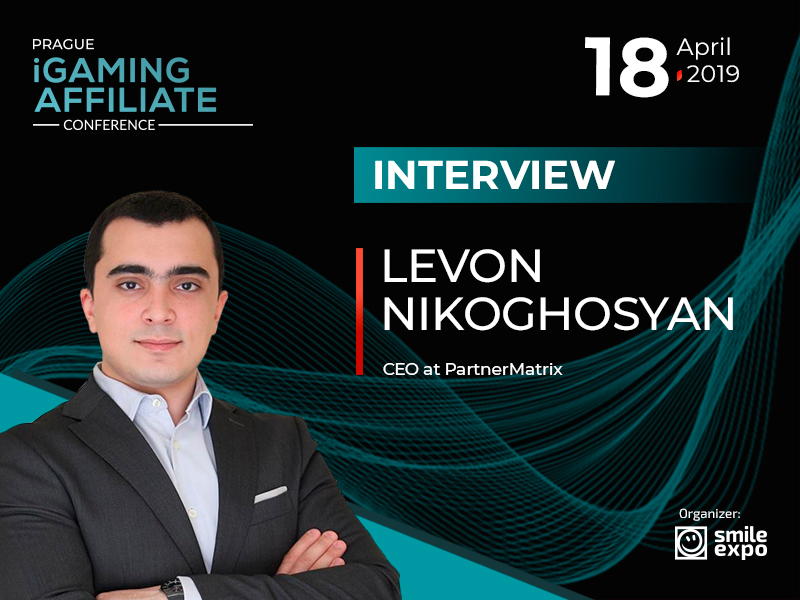 Affiliate Marketing in iGaming Is Mature Today – Levon Nikoghosyan, CEO at PartnerMatrix
Operators should learn about gambling regulations in the targeted countries to adjust marketing strategies, believes Levon Nikoghosyan, CEO at PartnerMatrix.
Levon Nikoghosyan is a specialist in affiliate programs with many years of experience. He is the leader of the Armenia Branch of EveryMatrix, a provider of software for iGaming market players.
In the interview for the Prague iGaming Affiliate Conference, the expert talked about the recent changes in affiliate marketing, strategies to promote gambling offers in 2019, and future trends.

Interviewer: Prague iGaming Affiliate Conference (PiAC).
Speaker: Levon Nikoghosyan (L.N.).
PiAC: How has the affiliate marketing in the iGaming niche changed within the last year?
L.N.: The affiliate landscape in the iGaming niche has evolved tremendously and today we are operating in a more mature and refined industry. This translates to better opportunities for both operators and affiliates, but also to an ever-increasing cost of player acquisition, fluctuating monetization, or even plunging revenues.
In the last year, we witnessed first-hand how a couple of startup affiliate companies managed to grow exponentially and become industry giants while other established ones expanded their reach by acquiring other medium-sized companies. Operators need to be extra cautious to meet the demanding requirements of every single website they work with because a single issue with one can lead to the end of many other partnerships operating under the same umbrella.
Bottom line, despite of any evanescent trends, operators need to build their affiliate programs upon the right platform and technology if they wish to gain success and long-term growth.
PiAC: What marketing strategies are effective for the gambling sphere in 2019?
L.N.: Until now, operators have focused almost entirely on bringing new traffic to their website, this being the industry's most tried-and-tested approach. Unfortunately, this method is not neither the cheapest one nor the most effective, especially used by itself.
For 2019, one of the most promising strategies is the reward for reactivation of existing players – Reactivation Reward. With the ever-increasing cost of user acquisition, keeping and reactivating churned players is critical to success. If the business objective is to receive more affiliate traffic, but the results are not as great as expected, maybe it's time to try a different approach and get the inactive players back in the game with the help of the affiliates. Both bookmakers and casino operators can take full advantage of this new strategy.
I would also mention the importance of tracking conversions with high accuracy, and also the need to do a better job with player segmentation for the optimization of the affiliate rewards.
PiAC: What are the peculiarities of affiliate marketing in the iGaming niche? How does it differ from platforms promotion in other industries?
L.N.: The iGaming affiliate industry is considerably different from other industries, especially due to the more severe regulations. In comparison to other industries, which are not subject to the same limitations, the iGaming scenery is indeed unique.
For example, Facebook can easily ban your ads if you promote any betting related content and this is just the top of the iceberg. In Romania, for example, you are not allowed to promote bonuses on your website if you don't have a fitting license, while in the US affiliates' activity, it is even more restricted. So, it is important for each operator to know exactly what the regulations in the targeted countries are and adjust the strategy accordingly.
PiAC: In your opinion, in which direction will the iGaming affiliate niche develop in both the near and distant future? What role can affiliates play in this process?
L.N.: iGaming is growing, so the affiliate space will continue to grow with the industry. I think there is a room for everyone, as long as their websites are less about promotional space and more about generating valuable content around sports or casino. The most successful affiliates are the ones daring to explore new verticals (eSports for example), new channels or technologies in an effort to find their niche.
The affiliate marketing is the primary acquisition channel for our industry, and the industry is heavily focused on the acquisition rewards. However, affiliates and operators should turn their attention to opportunities related to their current player base in an effort to keep them engaged and to reactivate old players. There are just a few operators offering commissions for reactivation of their old players (with very good results) so affiliates should push more in this direction, and operators should support the Reactivation Reward functionality. With the help of such fair requests industry will develop even more.
PiAC: What information will you share during your panel discussion at Prague iGaming Affiliate Conference?
L.N.: Presently, over 80 successful operators across several jurisdictions are using PartnerMatrix as their affiliate platform and I'm more than glad to share some insights on how to attract and keep players through affiliates in those markets. We will also debate the future of the industry and explore what other exciting trends will emerge in the following quarters.
Levon Nikoghosyan will take part in the panel discussion "Innovative gaming business with affiliate marketing."
Learn more about affiliate marketing from the expert at the conference!