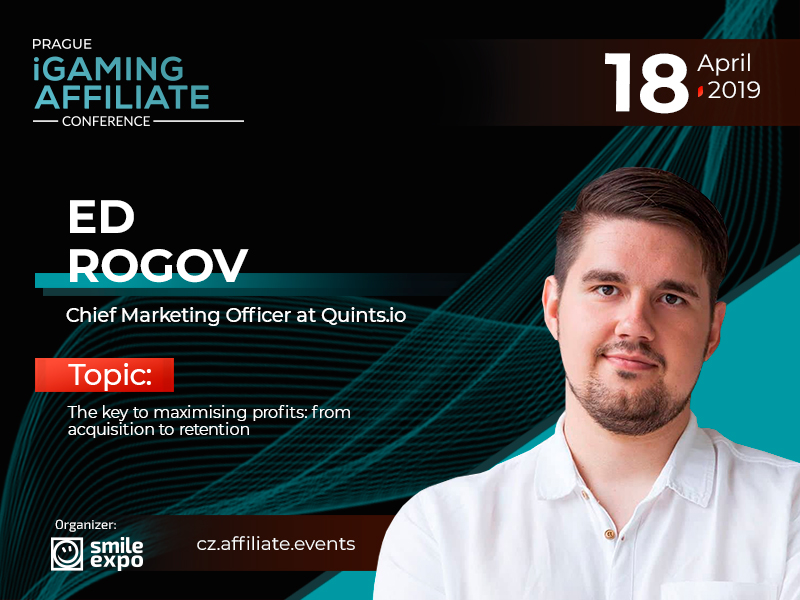 From acquisition to connections: Quints.io Chief Marketing Officer Ed Rogov will unveil the full circle of online casino marketing
Marketing is not analytics alone but a symbiotic relationship between a customer and a service provider. Speaking in terms of gambling, between a player and a platform. How to increase player revenues in order to improve your business performance? On April 18, Chief Marketing Officer of Quintessence Ed Rogov will highlight this topic at Prague iGaming Affiliate Conference.
The speaker has over 9 years of experience in the online gambling industry and over 10 years of experience in online marketing. Over these years, he has launched and operated numerous online casinos and affiliate marketing brands covering both marketing and operational sides of this business. To name a few, he was part of such brands as 888casino, 888poker, Lotos casino, BrosSlots, etc. Currently, he is Chief Marketing Officer at Quintessence (Quints.io), a SaaS platform for licensed online casinos.
At the conference, Ed will speak on the topic "The key to maximising profits: from acquisition to retention" and will show:
Player acquisition is key to survival, but proper retention is crucial to success;
The potential risks on every step in the conversion funnel;
Symbiosis examples: how can retention optimize acquisition and vice versa;
The circle of marketing (from acquisition to PR),
and will provide tips and methodologies (SMART tasks, tracking software etc.).