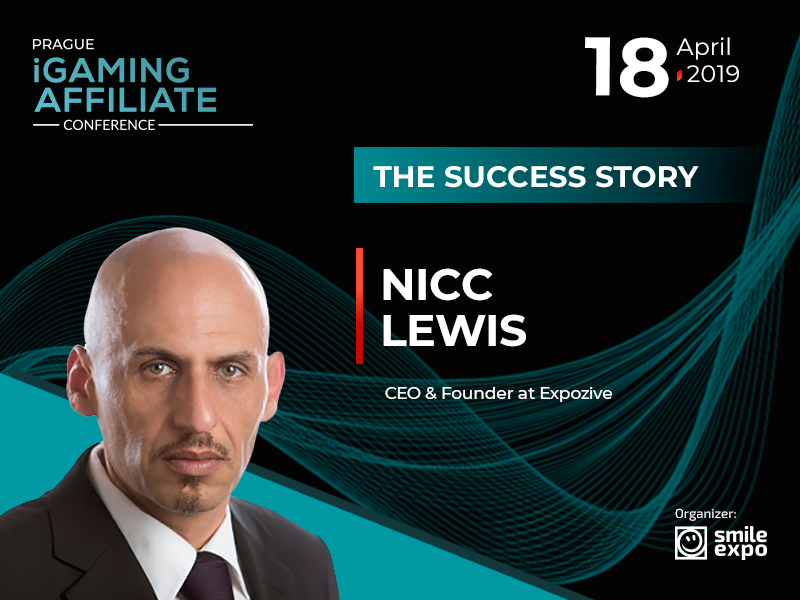 Nicc Lewis: "I had developed my talent for marketing in fashion industry in South Africa". The Success Story of CEO & Co-Founder at Expozive
He has worked in the fashion industry, has unexpectedly entered the iGaming sphere and has been a marketer in different companies. Today, he is providing marketing services to different organizations in his own company, he is the CEO & Founder at Expozive – Nicc Lewis.
On April 18, Nicc Lewis will become a speaker at the Prague iGaming Affiliate Conference where he will take part in panel discussions "Innovative gaming business with affiliate marketing" and "The potential uses and opportunities of blockchain and cryptocurrencies for iGaming."
We have talked with the expert about the beginning of his career, experience in different industries, his view of marketing and business development tricks.
"I apply tricks from fashion industry in online marketing"
Although The Body Shop was my first full-time job, I grew up in the fashion industry both on the retail and the designer side. Working in a retail environment has put me in front of customers on a face-to-face level which you do not get online. Speaking to people, hearing and seeing their reactions in person is an invaluable experience.
I have learned many tricks in the fashion industry that have carried me through my professional career. For example, when you dress a shop window you should always use odd numbers, and I have used this principle in design ever since. Then, in retail sales you do not ask a customer if they want to purchase something. You ask if they would like to buy "this" or "that", and that's how you eliminate the "no" option. This is a tactic I have been applying to online marketing ever since.
"The beginning of my career in iGaming was not planned"
My entry to iGaming was not planned. I had moved from South Africa to Israel and had no real plan. I knew that I had a talent for marketing that was developed further back in the fashion industry in South Africa. I knew I had this freakish nature of loving both numbers and creativity in equal amounts. I also knew that I had good English which could be an advantage in Israel.
So, I arrived in the country, got in a car and started looking for work. My travels got me to meet the CEO of Spiral Solutions almost by chance. He asked me how my fashion experience could help me in marketing for online casinos. I told him that it would be much simpler, as in fashion, you have to sell all your stock from scratch four times a year, and as you start selling, the stock devalues as it is seasonal. So, I told him that selling something with the same intrinsic value year-round would be easier. I got the job and started out managing a single casino brand and ended up managing them all.
"I was leading the Account Management team for Microgaming"
At Spiral Solutions, I was responsible for all the client marketing teams including online and offline operators.
Spiral Solutions developed the mobile casino for Microgaming, and I was leading the Account Management team that managed its clients. Part of my job was driving the programs for clients and driving the businesses forward. Also, I was driving development and product to meet the market and regulatory requirements, which meant meeting with regulators throughout Europe. I was also going on the road and selling Spiral Solutions' offerings.
"I was sure I know how marketing should work"
When I was hired by Leverate, I was confident of how marketing should be executed. While working at the company, I knew how to work with products using my experience in gaming, market feedback and speaking to clients. Having said that, I believe the biggest contribution I made to Leverate was to give the company the brand positioning as an experienced leader in the industry that evokes confidence. This confidence was passed on to the clients and I was privileged to be there during the biggest time of growth.
So, I have worked for some amazing companies throughout my career, but I had been an employee. I had confidence in my abilities and a track record to match. The next logical step in my career was to open my own company and give marketing services to many other ones. This is pretty much how it happened, I founded Expozive.
"Having good relationships with clients is important for any business"
I always tell people that we are all in the people's business. So, in Expozive it starts with me and the way I relate to people, my clients and my potential clients. I have a good and close relationship with my clients and influencers in many industries, and a large portion of my business is built on the referrals from other people.
Understanding data, business numbers and how to spot trends, focusing on specific KPI's and asking the right data-based questions means that the journey to success starts from a solid base. On this base the creativity is layered. It refers to the way of presenting, promoting and driving the goals targeted in an attractive and unique way.

In Expozive, I have been privileged to work with some great international companies and brands, but for me personally, the most remarkable development is that I have been approached by small local businesses to help.
"Having good content, working in a niche and being an honest brand is important"
Anyone who tells you that brand loyalty is a thing of the past does not understand the market. Building a brand, brand awareness and brand authority is more vital than ever, and the effects boost the business from every aspect as an added benefit.
For example, in an iGaming brand, good content marketing will put your business in front of potential customers, and their awareness will aid a buying decision in your favor. Whether it is traffic from an affiliate or a paid one, conversion rates will go up. Good content will also give better search rankings which also means higher conversions and more "free" conversions, which makes the marketing budget go further. The key is to build your brand identity, define what makes you unique, and most importantly, how it gives value to the user. This is absolutely the most vital part as we are all consumers. Just look at your own habits: you do not necessarily look for the cheapest, you look for the best value at a place you can trust.

The second part is being niche. It is a very competitive world. Not many companies in different spheres can afford throwing large budgets and competing globally. It is far better to narrow down and focus on specific niches where you can compete, be strong and offer a unique value proposition. Growth comes from moving from one niche into the next logical or complementary niche.

There is a real need to be open, honest and human. Being a clean and honest brand will not only win over customers, but also help with negotiating with channels such as Google, Facebook and Twitter to keep your message live.

The last observation is the movement to the Millennials segment. This a generation with behavior patterns so different to previous generations that approaching them is alien to many. We are already seeing the rise of influencer marketing and micro influencer marketing. We are seeing a rise in video content and seeing how it is important to have a blend of short and long content. Initial consumption of content is very short as it's just a few seconds of video or reading. But content that has value can be much longer than you expect.
Learn more about marketing from the expert at the conference!