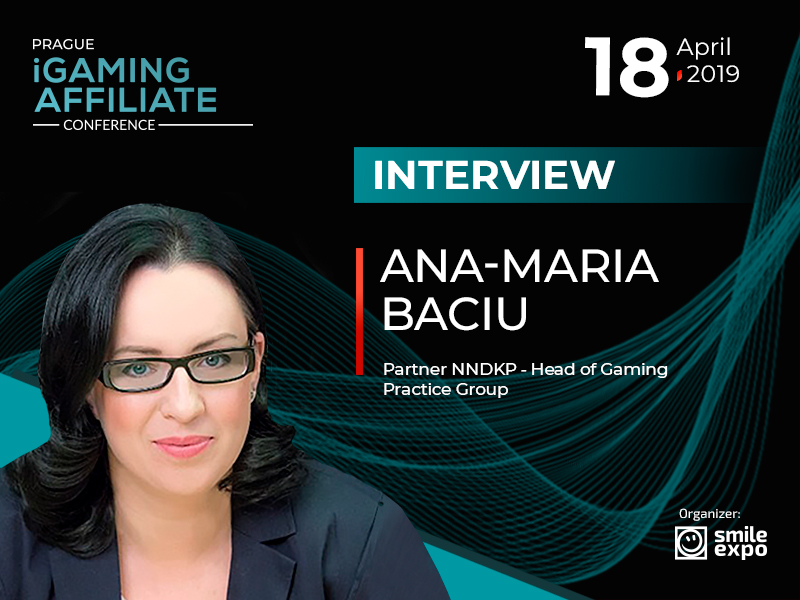 2019 Will Be Another Busy and Eventful Year for Gambling Industry – Ana-Maria Baciu, Partner NNDKP
The expansion of the online gambling regulation will have a positive effect all over Europe, and will create a safer European gambling environment, believes Ana-Maria Baciu, Partner of NNDKP.
Ana-Maria Baciu is the legal adviser in the gambling area with over 16 years of experience. She is the licensed European attorney and the General member of IMGL (International Masters of Gaming Law).
In the interview for the Prague iGaming Affiliate Conference, the expert talked about the current gambling regulation in Europe, elaborated on what should be improved and compared different European gambling markets.

Interviewer: Prague iGaming Affiliate Conference (PiAC).
Speaker: Ana-Maria Baciu (A-M.B.).
PiAC: As a partner of NNDKP, business legal services provider in Romania, how can you compare gambling laws in Romania and the Czech Republic? What do these countries can learn from each other?
A-M.B.: As compared to the Romanian gambling market, one may say that the Czech Republic's online gambling market has been perceived as being internationally unfriendly.
Since Romania opened its gates to online gambling earlier than the Czech Republic, we can say that we have a bit more experience with respect to what proved to work and what not, in terms of how to reach the successful triangle cohabitation (state-operators-consumers) from a regulation perspective.
Then, to the best of my knowledge, in the Czech Republic the same tax rates apply to online operators as to land-based businesses. This means that operators have to pay taxes of 35% on casino games revenue and 23% on sports betting. As such, compared to the taxes that operators are asked to pay in other European jurisdictions (including Romania), one may affirm that tax rates in the Czech Republic are drastically high.
The Czech market has never actually flourished to its full potential, as international operators were far less pleased with the Czech Republic's new regulations than expected. This is, for example, one of the aspects that could have been explanatory to the Romanian state regarding what not to do in terms of taxation.
Moreover, the gaming regulation in the Czech Republic requires the need for in-person player registration. Fortunately, the physical verification of player identity required from users opening up online accounts is not, at least for the moment, needed as per the Romanian gambling legislation.
In terms of market report numbers, while online gambling has been legal in the Czech Republic for 2 years now, it has issued 23 online licenses, but only three of them are held by foreign operators. In Romania, while the number of issued licenses for online gambling operators at the time of writing is the same, 19 are held by foreign operators.
As such, while Romania is by no means perfect, one may say that it is a little more welcoming to international businesses.
---
PiAC: Compare gambling regulations in other European countries. Where do you think the sphere is more legally protected and why?
A-M.B.: Some countries in Europe are still opposed to the idea of online gambling and have a restrictive licensing regime or stricter approach, for example, Poland, Hungary, and Germany. However, we are seeing that many countries create opportunities and positive plans for the future, such as Sweden, Greece, and the Netherlands.
The Europe's leading regulated jurisdiction is Malta. It is known as one of the first European Union member states to legislate in order to regulate online gambling. It provides a clearly and fairly set legal framework for gaming operators, whilst maintaining high levels of player protection, competitive license fees, and attractive corporate tax regime for the gambling industry.
Malta continues to be proactive in developing its regulatory framework. Among the latest moves, there is regulation of skill-based games, which is an unregulated environment throughout European jurisdictions, and proposing guidelines on blockchain and cryptocurrency applications in the gaming industry.
---
PiAC: What are the main legal changes of 2019 regarding gambling in Europe? What has already happened, what to expect, and how these upgrades will influence online casinos?
A-M.B.: Things are never boring when it comes to online gambling, and 2019 seems to be another busy and eventful year.
Some changes:
the Netherlands is expected to adopt the long-awaited online gambling law to open the market to unlimited operators in the first quarter of 2019;
the gambling market in Sweden opened to private operators, subject to local licensing, on January 1, 2019;
Slovakia proposed a completely new gambling bill with significant changes and opened up the market to foreign operators in May 2018.
This expansion in terms of regulating online gambling is going to have a positive effect all over Europe, in my view, as the net result is going to be a greater number of regulated online betting options for European players and a move towards a safer European gambling environment.
Then, the industry started to look at the increased involvement in the cryptocurrency market, as blockchain technology and online gambling seem tailor-made for each other. As such, the fact that customers can move money quickly, efficiently, with minimal costs, and with greater anonymity has great appeal for all concerned parties. However, this remains a highly unregulated part of the industry throughout Europe, with little envisaged action in the foreseeable future from most of the European jurisdictions.
---
PiAC: What are the current problems and gaps existing in the regulation of online casinos in Europe? How to solve them?
A-M.B.: The current problems existing in the regulation can be divided into several categories, depending on the concerned parties.
If we are talking about gambling operators, the cost and duration of the licensing process, the fees and taxation imposed are of significant consideration and greatly vary from one jurisdiction to another.
In some jurisdictions, regulators have passed legislation specifically applying to online gambling, whereas other jurisdictions are applying their traditional provisions to this relatively new phenomenon. The latter approach causes legal uncertainty and problems of interpretation.
Further, jurisdictions where considerable onerous conditions are imposed to businesses in order to legally operate are more likely to drive the activity underground. Gambling can be carried out illegally and in secrecy, and its negative social effects are even more difficult to control.
---
PiAC: How should the gambling law develop in Europe in the future, in your opinion? What are the necessary steps to take to improve the gambling sphere?
A-M.B.: Hopefully, there will be a right kind of regulation that will foster both local and international gambling ventures, and taxation that is not too aggressive.
In my view, issues such as less bureaucracy, simpler procedures, mutual recognition, digitalization of the license application process, fair taxes, advancement and interference of technology in the gambling activity still need to be addressed in order to ensure that regulations keep the pace with such a dynamic and constantly-changing industry. Proper regulation may turn Europe into the next big online gambling hub.
---
PiAC: What will you talk about at the Prague iGaming Affiliate Conference?
A-M.B.: I will talk about the most important changes that have recently occurred in the Romanian legislative framework from the tax, AML and advertising in the audio-visual field perspective influencing the online gambling activity in Romania.
Ana-Maria Baciu will take part in the panel discussion "Current state of gambling regulation in Europe."
Learn more about gambling regulation from the expert at the conference!
Registration ►►►